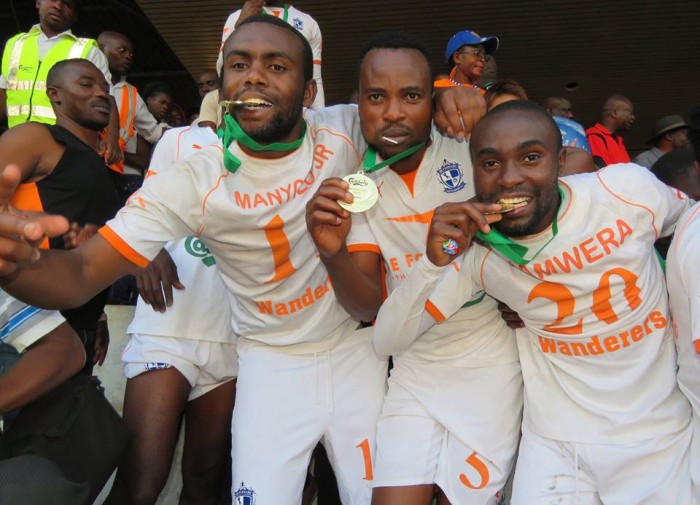 The Carlsberg Cup was reintroduced in Malawian football in 2012 after 10 years of absence. The Cup was first launched in 2000 as the country's richest knockout competition. Mighty Wanderers were the inaugural winners in 200 beating arch rivals Bullets 2-1 via a Hendrix Banda's Golden Goal.
Moyale won it in 2001 after edging Escom United 1-0 with Prichard Mwansa scoring the lone goal at the Civo Stadium.
The 2002 final saw Wanderers facing Bullets again and this time around Bullets won it through a McDonald Yobe's lone strike.
However it was the 2003 final that is mostly remembers for bad reasons. Wanderers faced Bullets yet again and with the match ties at 2-2 Wanderers scored a third goal in extra time which could have been a winner as the golde3nd goal rule was still in force. However the goal scored by Muzipasi Mwangonde was disallowed after the pass from Joseph Kamwendo was judged to have gone out of play before Mwangonde scored.
The match was abandoned after violence as Wanderers protested the decisions. Efforts to have the match replayed proved futile and this results in Carlsberg Malawi withdrawing the sponsorship.
After almost ten years in the wilderness Carlsberg Malawi returned with the competition in 2012 with a sponsorship of K 20 million.
Blue Eagles FC won the cup on its return after beating Escom United 1-0.
The 2013 Edition.
Kamuzu Barracks won the 2013 Cup after beating Moyale 1-0 at the Mzuzu Stadium on 14th September 2013 with top goal scorer of the tournmanet Havey Mkacha scoring the match's lone goal.
The 2014  Edition
Big Bullets won the 2014 edition after beating Zomba United 2-0 in the final on 10th August 2014 at the Kamuzu Stadium. Zomba United become the first non Super League side to reach the Carlsberg Cup final. Victro Limbani and Tizgowere Kumwenda scored for Bullets
The 2015 Edition
The 2015 edition saw Mighty  Be Forward Wanderers and Big Bullets square up in a first ever derby final since the 2003 abandoned Carlsberg Cup. Wanderers won the derby final 2-1. Goals from Victor  Nyirenda and Kondwani Kumwenda won the cup for Wanderers with  Jaffali Chande scoring the lone goal for Bullets
The 2016 Edition
Mighty Be Forward Wanderers become the first team to defend the Calrsberg Cup as they defeated Silver Strikers on 10th September 2016 5-4 on post match penalties following a1- all draw.   Victor Limbani scored for Silver before Harry Nyirenda equalised a few minutes before half time. Coach Eliah Kananji also made record by winning the Cup three times in a row  having won it with Wanderers in 2015 and Big Bullets in 2014.
PAST WINNERS
2015: Mighty Be Forward Wanderers
2014: Big Bullets FC
2013: Kamuzu Barracks
2012: Blue Eagles
2003: Null and void
2002: Total Big Bullets FC
2001: Moyale Barracks
2000:  Mighty Telkom Wanderers